HEALTHY GLOBAL GOURMET COOKING & SEASONING SAUCES
As always, you can purchase Mesa de Vida anytime at Whole Foods Markets nationwide!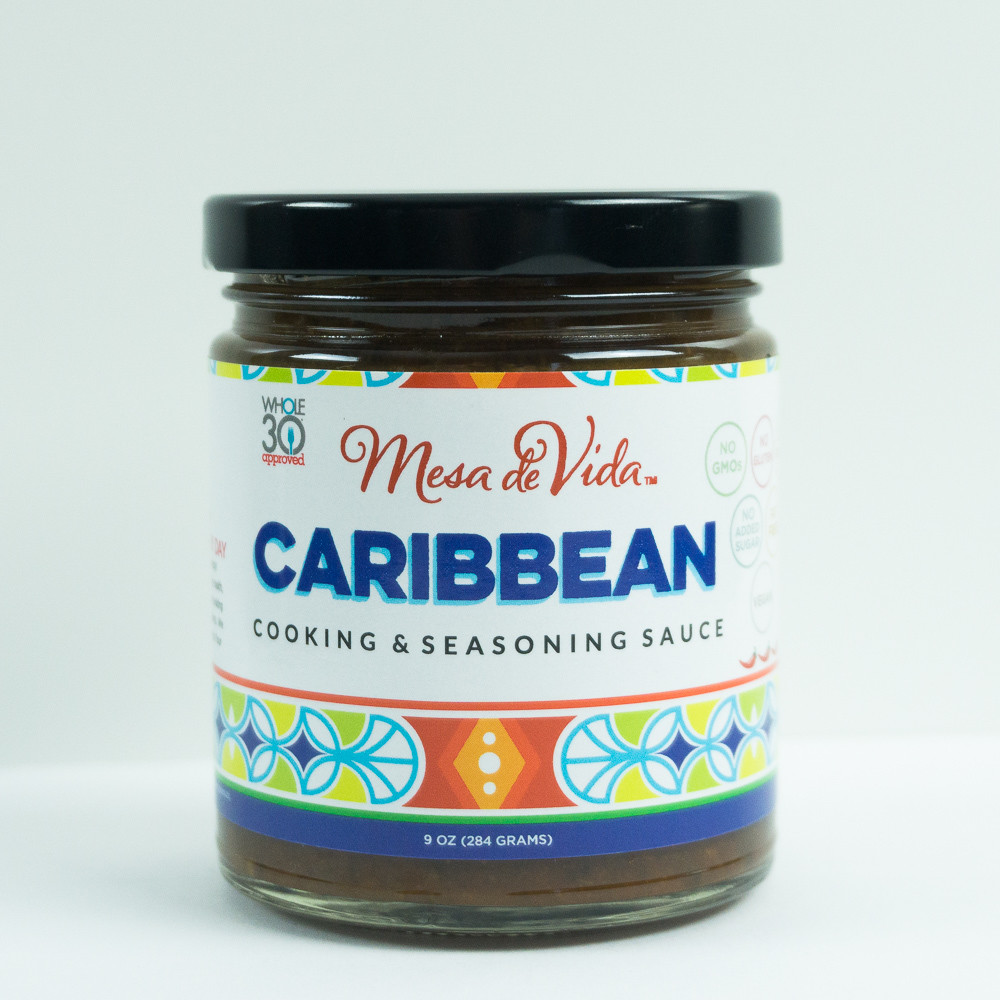 Caribbean Cooking and Seasoning Sauce
SKU SAUCA01
Product Details
Mesa de Vida Caribbean Cooking & Seasoning Sauce helps you cook amazing Caribbean inspired meals in less time with fewer ingredients!
About our Caribbean cooking sauce: If you're in the mood to add jerk flavor without all of the sodium, or want to seriously kick-up ordinary pulled pork, chicken wings and rice and peas to a whole new tropical level, our Caribbean cooking sauce is what you need! Or maybe you'd like to add Caribbean flair to your typically boring weeknight chicken dinner - all you need is a dollop of Mesa de Vida Caribbean cooking and seasoning sauce to bring your meal to life.
Healthy Caribbean simmer sauce, gourmet Caribbean seasoning, and so much more.
Add exciting Caribbean flavor to anything you make! The complex elements of incredible Caribbean flavors are perfectly balanced and waiting for you in this concentrated flavor base.
You can enjoy global gourmet meals even on your busiest weeknight with Mesa de Vida gourmet cooking sauces!

Caribbean flavors bring life to the simplest of ingredients including beef, pork and lamb, chicken, shrimp, rice, vegetables and beans, but don't let that limit your imagination. You can bring the glorious flavors of Caribbean cuisine to just about anything you'd like to cook with Mesa de Vida.
SAUTE, SIMMER, SLOW COOK, MARINATE, SEASON + MORE WITH MESA DE VIDA HEALTHY GLOBAL GOURMET.

Made with just vegetables, fruit, spices and herbs, perfectly blended and waiting to bring life to your table! As with all of our Whole30 Approved cooking sauces, they are low sodium sauces and seasonings, and have zero added sugar. Adjust salt to your own tastes. Most people find our Caribbean cooking sauce medium-hot.
---
How to use Mesa de Vida Whole30 Approved cooking and seasoning sauce:
Use a little, or use a lot! Use a spoonful or two when cooking protein, vegetables, or grains as a fresher, healthier, delicious alternative to salty dried spice blends. Or use the whole jar as a recipe starter for meals that make 4-8 servings. Our vegetable-based cooking sauces are the ultimate kitchen hack for amazing global gourmet meals!
---
See How To Use Mesa de Vida for endless ways to #MakeItWithMesadeVida!
Discover easy, healthy Caribbean inspired recipes that will #BringLifeToYourTable!
---
*Our original Caribbean version contained Tamari soy sauce in place of the coconut aminos. If you have soy or coconut allergies or intolerances, please check the label on the sauce you have prior to consuming to confirm which sauce you are consuming. The version that has Tamari soy in it will not have the Whole30 logo on the label, and it will show Tamari soy on the label.



Save this product for later