HEALTHY GLOBAL GOURMET COOKING & SEASONING SAUCES
*August-September: Our sauces will be available for eCommerce purchase through Amazon Prime only, click here to order now!
As always, you can purchase Mesa de Vida anytime at Whole Foods Markets nationwide!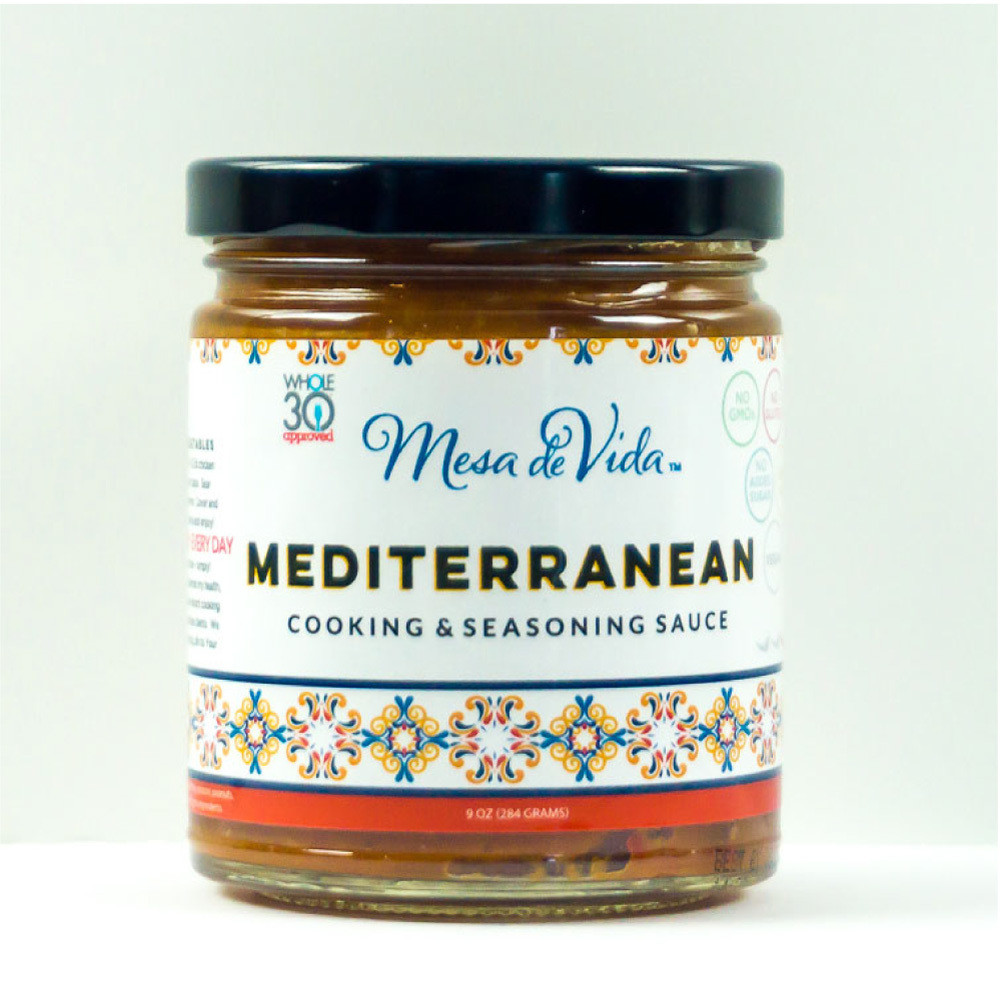 Mediterranean Cooking and Seasoning Sauce
SKU SAUME01
Product Details
Mesa de Vida Mediterranean Cooking & Seasoning Sauce helps you cook amazing Mediterranean inspired meals in less time with fewer ingredients!
About our Mediterranean cooking sauce: Take your taste buds on a delicious adventure to the islands of the Mediterranean with Mesa de Vida. The islands kissed by the Mediterranean sea and sun share a cuisine rich with bold, yet simply delicious ingredients.
With inspiration from Sicily, Sardinia, Crete, Cypress, Santorini, and Corsica, "…those blessed lands of sun and sea and the olive trees"*, our Mediterranean cooking and seasoning sauce brings together the aromatic, flavorful and healthy ingredients that help make this one of the most loved cuisines in the world.
Healthy Mediterranean simmer sauce, gourmet Mediterranean seasoning, and so much more.
With a flavor base of concentrated sun kissed tomatoes, roasted red peppers, onion, garlic, capers, Kalamata olives, crushed red pepper, oregano and basil, all brightened by a splash of red wine vinegar, our Mediterranean cooking sauce transforms your simple ingredients into a perfectly balanced, truly delicious masterpiece.
You can enjoy global gourmet meals even on your busiest weeknight with Mesa de Vida gourmet cooking sauces!
Mediterranean flavors play well with chicken, lamb, beef, potatoes, pasta, seafood, eggplant, feta, spinach, chickpeas, and of course red wine and olive oil...but don't let that limit your imagination. You can bring the glorious flavors of the Mediterranean to just about anything you'd like to cook, with Mesa de Vida.

SAUTE, SIMMER, SLOW COOK, MARINATE, SEASON + MORE WITH MESA DE VIDA HEALTHY GLOBAL GOURMET.

Made with just vegetables, fruit, spices and herbs, perfectly blended and waiting to bring life to your table! As with all of our Whole30 Approved cooking sauces, they are low sodium sauces and seasonings, and have zero added sugar. Adjust salt to your own tastes. Most people find our Mediterranean cooking sauce to be very slightly spicy.
---
How to use Mesa de Vida Whole30 Approved cooking and seasoning sauce:
Mesa de Vida Mediterranean Cooking & Seasoning Sauce is not a pasta sauce, but it can be your secret ingredient to make the most amazing homemade gourmet pasta sauce of your own.
But that is just the beginning - It does so much more, too.
Use a little, or use a lot! Use a spoonful or two when cooking protein, vegetables, or grains as a fresher, healthier, delicious alternative to salty dried spice blends. Or use the whole jar as a recipe starter for meals that make 4-8 servings. Our vegetable-based cooking sauces are the ultimate kitchen hack for amazing global gourmet meals!
---
See How To Use Mesa de Vida for endless ways to #MakeItWithMesadeVida!
Discover easy, healthy, gourmet Mediterranean recipes that will #BringLifeToYourTable!
---
*From Elizabeth David's "A Book of Mediterranean Food" (1950)



Save this product for later