HEALTHY GLOBAL GOURMET COOKING & SEASONING SAUCES
*August-September: Our sauces will be available for eCommerce purchase through Amazon Prime only, click here to order now!
As always, you can purchase Mesa de Vida anytime at Whole Foods Markets nationwide!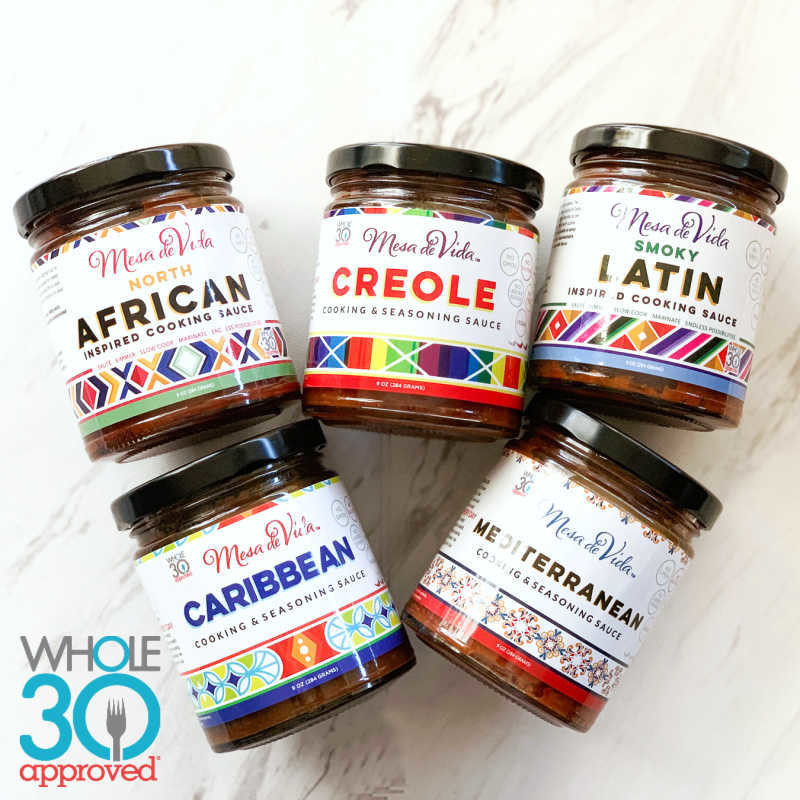 Mesa de Vida Global Gourmet Variety Bundle | Whole30 Approved Cooking Sauce
SKU 5
Product Details
Mesa de Vida Gourmet Cooking & Seasoning Sauce helps you cook amazing gourmet meals in less time with fewer ingredients!
Eat great every week of the month with Mesa de Vida's Whole30 Approved Cooking Sauce Variety Bundle! Delivered direct to your door, you'll be stocked up to create incredible meals at home more often with the help of our
Mediterranean
,
Smoky Latin
,
Creole
,
Caribbean
, and
North African
Healthy Global Gourmet Cooking & Seasoning Sauces.
Healthy gourmet simmer sauce, healthy global seasoning, and so much more.
Each 5-pack comes in a gift box with recipe inspiration and note to welcome you to our table of life! We hope to help you create many memories and enjoy more meals around your table of life.

You can enjoy global gourmet meals even on your busiest weeknight with Mesa de Vida gourmet cooking sauces!

Mesa de Vida Whole30 sauces are great for cooks of all skill levels. Whether you're cooking a global gourmet meal for a dinner party, or want to bring excitement to your weekly healthy meal prep, Mesa de Vida healthy gourmet sauces and seasonings make it easy.
SAUTE, SIMMER, SLOW COOK, MARINATE, SEASON + MORE WITH MESA DE VIDA HEALTHY GLOBAL GOURMET.
Mesa de Vida healthy global gourmet cooking and seasoning sauces are made with just vegetables, fruit, spices and herbs, perfectly blended and waiting to bring life to your table! All of our Whole30 Approved cooking sauces are low sodium, and have zero added sugar. Adjust salt and hot sauce to your own tastes when cooking. See individual product descriptions for spice levels.
---
How to use Mesa de Vida Whole30 Approved cooking and seasoning sauce:
Use a little, or use a lot! Use a spoonful or two when whisking up eggs, cooking protein, vegetables, or grains as a fresher, healthier, delicious alternative to salty dried spice blends. Or use the whole jar as a recipe starter for meals that make 4-8 servings. Our vegetable-based cooking sauces are the ultimate kitchen hack to amazing global gourmet meals!
---
See How To Use Mesa de Vida for endless ways to #MakeItWithMesadeVida!
Discover easy, healthy, gourmet recipes that will #BringLifeToYourTable!
Save this product for later