HEALTHY GLOBAL GOURMET COOKING & SEASONING SAUCES
Buy here online for direct shipping to your door! As always, you can also purchase Mesa de Vida anytime at Whole Foods Markets nationwide!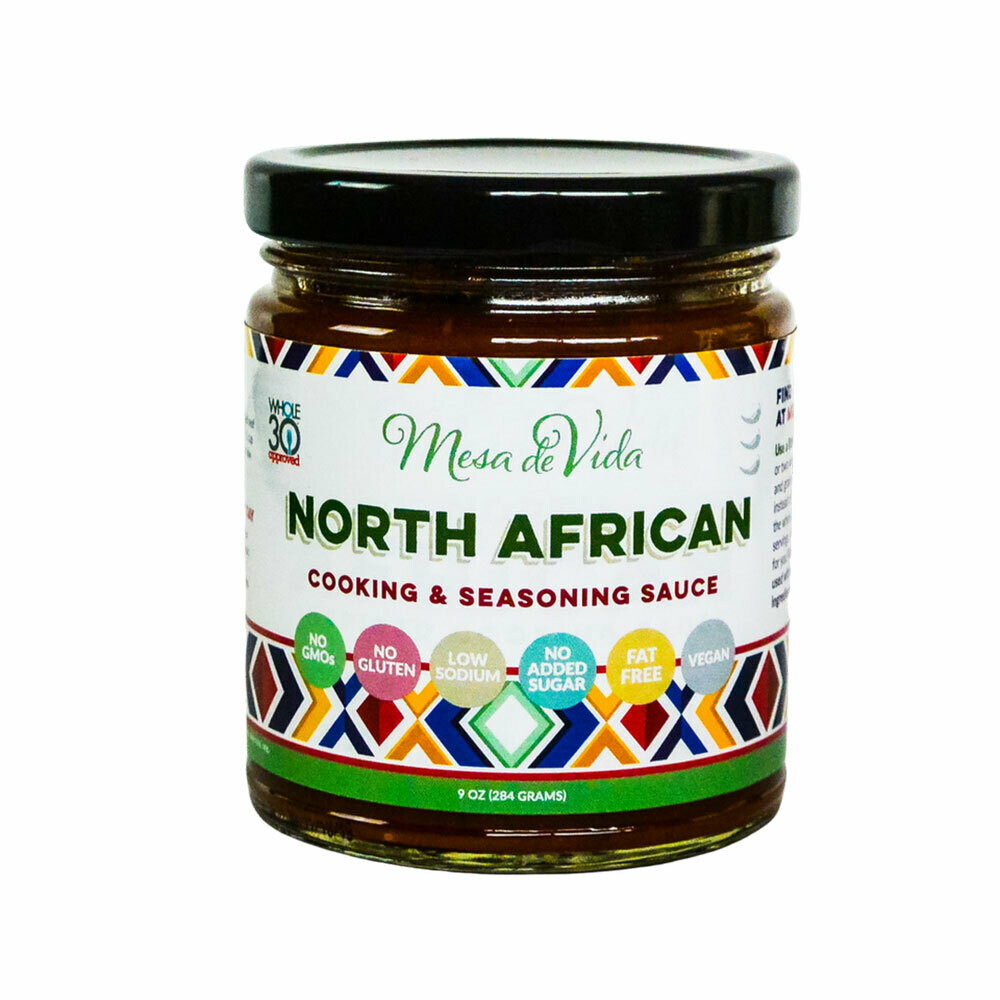 North African Recipe Starter and Seasoning Sauce
SKU SAUNA01
Product Details


Healthy North African-inspired simmer sauce, gourmet North African-inspired seasoning, and so much more.
Transport yourself to Tangier with a tasting tour in Marrakech and Casablanca along the way. We've packed the myriad of aromatic vegetables, spices and herbs that go into creating the intoxicating flavor base of this vibrant cuisine into one jar.
From Shakshouka, to an incredible Tagine, a phenomenal slow-cooker stew and more, the possibilities of amazing meals made with Mesa de Vida's concentrated North African-inspired cooking and seasoning sauce are truly endless.
Bold, flavorful, exquisitely balanced and complex, our North African-inspired cooking sauce helps you bring the flavor of Morocco to your table, whether you're preparing a menu for a fabulous dinner party centered around an exquisite tagine, or simply making freezer meal kits that satisfy your gourmet palate.

SAUTE, SIMMER, SLOW COOK, MARINATE, SEASON; SOUPS, STEWS, SKILLET MEALS + MORE! Click here to discover the endless ways to use our multi-tasking, concentrated flavor bases.
Our North African-inspired recipe starter helps you turn the simplest of ingredients into an incredible meal!
Goes great with beef, lamb, chicken, potatoes, rice, couscous, beans, vegetables, and more.
Made with just vegetables, fruit, spices and herbs, perfectly blended and waiting to bring life to your table!
As with all of our Whole30 Approved cooking sauces, they are low sodium sauces and seasonings, and have zero added sugar. Adjust salt to your own tastes.
Spice level: very mild *Goes great with harissa if you like it spicy!
You can bring the glorious flavors of North African cuisine to just about anything you'd like to cook with Mesa de Vida!
---
Discover all of our North African-inspired recipes here!

---
Save this product for later