HEALTHY GLOBAL GOURMET COOKING & SEASONING SAUCES
Buy here online for direct shipping to your door! As always, you can also purchase Mesa de Vida anytime at Whole Foods Markets nationwide!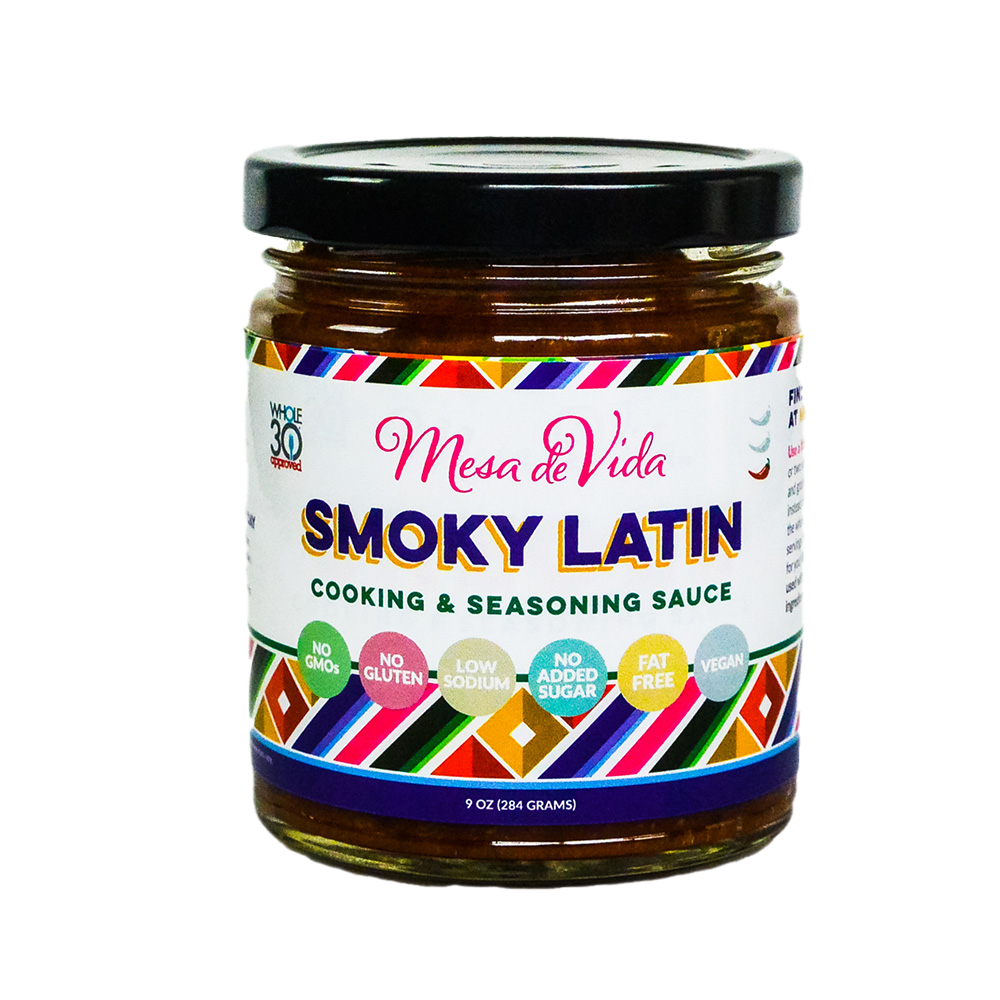 Smoky Latin Cooking and Seasoning Sauce
SKU SAUSL01
Product Details


About our Latin-inspired recipe starter: This is where it all began. We love Latin cuisine. The smoky, nuanced spices of Spain, the bold and bright flavors of Mexico, the clean and simple cuisine of Costa Rica and, definitely, the sassy sazon of the Dominican Republic. We simply couldn't decide on a favorite, so we created a thick, rich flavor base that capture bold tastes from each vibrant cuisine. Think of Mesa de Vida as an amped up sofrito, and an alternative to dried out, salty spice blends, in one. You'll get fresher flavor with our versatile cooking base that will help you bring life to everything you make with it!
Healthy Latin-inspired simmer sauce, gourmet Latin-inspired seasoning, and so much more.
Add exciting Latin-inspired flavor to anything you make! Use convenient Mesa de Vida Latin cooking and seasoning sauce to kick your tacos up a notch, as the all-in-one flavor base for your take on Spanish rice, huevos rancheros, Chile Colorado, paella or arroz con pollo. It's a tasty simmer sauce for pulled chicken or our take on pork carnitas, the base for the easiest and most delicious starter sauce for Mexican Pozole and Tortilla Soup recipes, and so much more. With so many uses for quick and easy dinners, keep this sauce on hand as your go-to starter for dinner several nights a week.
Our Latin-inspired recipe starter brings life to the simplest of ingredients including pork, chicken, beef, seafood, rice, vegetables, and beans...but don't let that limit your imagination. You can bring the glorious flavors of Latin cuisine to just about anything you'd like to cook with Mesa de Vida.

What are you going to cook first? Discover all of our Latin inspired recipes here!

SAUTE, SIMMER, SLOW COOK, MARINATE, SEASON + MORE
Mesa de Vida healthy global gourmet cooking and seasoning sauces are made with just vegetables, fruit, spices and herbs, perfectly blended and waiting to bring life to your table! As with all of our Whole30 Approved cooking sauces, they are low sodium sauces and seasonings, and have zero added sugar. Adjust salt and hot sauce to your own tastes when cooking. Most people find our Latin cooking sauce extremely mild and approachable for all tastes.
Save this product for later